Epic Stillwater Fly Fishing
Alpine Country Outfitters offer premier guided fly fishing trips!
Welcome to the Parkland of Manitoba
The unparalleled Stillwater fly fishing mecca!
You can fish for trophy Rainbow, Brown, Brook, Splake, and Tiger trout. The "grand slam" of stillwater fly fishing.
Choose your fishing destination. The interior and surrounding lakes of Duck Mountain Provincial Park or the Eastern Parkland lakes south of Riding Mountain National Park.
A "one of a kind " fly fishing experience for beginner, novice, and veteran anglers.
Fly Fishing Manitoba
Experiencing Manitoba Parkland Region is nothing short of amazing. Rolling hills, mixed forests, rich prairie land, diverse water bodies, and unique wildlife bring one back to the pioneer era. Throw in dozens of trout fisheries and you have a destination unimaginable to most.
Manitoba's Parkland has set the bar for the premier fly fishing destination. The fisheries in Duck Mountain and Riding Mountain let you catch many trout species. Rainbow, Brown, Brook, Splake, and Tiger trout are all local species with healthy populations and mammoth sizes!
You can target monster Rainbow and Browns in low-light conditions with hardcore anglers. You can take it easy with a few hours of fishing lessons, an area tour, and a gourmet lakeside BBQ with family or friends.
About Alpine Country Outfitters
Alpine Country Outfitters offers a unique fly fishing adventure throughout the Parkland region.
Alpine Country Outfitters (ACO) focuses on every detail required to meet the needs and expectations of our customers.
Whether it's catching that 30 inch Rainbow, taking in the local sights, or indulging in gourmet meals ACO will look after your best interests.
ACO will ensure a new and memorable experience. Pursue the possibilities with Alpine Country Outfitters!
Meet Your Fishing Guide
Ryan Suffron is the owner of ACO and an exclusive guide for fly fishing in Manitoba's Parkland.
Ryan has enjoyed a lengthy career in Manitoba's hunting and fishing industry. He has been fortunate to have had the opportunity to guide fly fishers from around the world.
His eagerness to excel led him to JacobWheelerFishing.com and various Fly Fishing Championships. These experiences have forever connected him to the amazing world of fly fishing.
Ryan wants to ensure that you have a unique and memorable experience, day in and day out!
Guided Fly Fishing Trips
Cast your line, strip it back, set the hook, and hold on, you are in for the ride of your life!
Alpine Country Outfitters covers a large area and a variety of stillwater locations.
Duck Mountain includes Twin Lakes, Persse Lake, Tees Lake, Laurie Lake, Gull Lake, and Two Mile Lake. Riding Mountain includes Tokaryk Lake, Patterson Lake, Pybus Lake, and Corstorphine Lake.
Guided fly fishing trips use 16 ft aluminum boats customized for stillwater scenarios. Special belly boat or float tube trips allow for some excellent fishing in remote areas.
You can fish in many locations in one day and target different species in one session. Enjoy at least 8 hours on the water each day.
Customize your schedule to ensure flexibility and meet any time/ scheduling needs. Maximize your efforts and time on the water.
Fly Fishing Lessons
Whether you are a beginner, novice, or seasoned veteran there is something for everyone!
Alpine Country Outfitters takes great pride in teaching those who wish to learn how to fly fish. Whether you are a beginner, novice, or seasoned veteran there is something for everyone!
Lessons can vary throughout the fishing community. We use years of experience and extensive knowledge and how it relates to catching fish on the best fishing rod and reel combo for beginners to help new anglers get started with minimal gear.
Whether it is casting, line selection, knots, or tactics, you can learn the purpose and the importance it holds in catching fish. There is no generic way of learning fly fishing.
Alpine Country Outfitters offer lessons by the hour, day, and multiple-day lessons. On dry land, shoreline or boat. Each option suites different needs and requests but all incorporate the A to Z of fly fishing.
The lessons ensure that you have fun learning and give you the right tools to catch fish on a fly rod.
Browse More Trips & Interests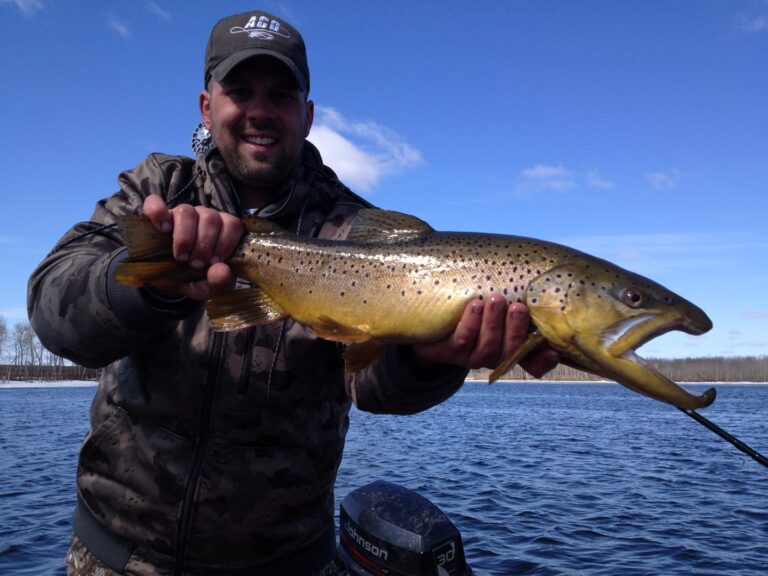 Time and effort can make the fly fishing opportunities endless. So ignore how fly fishing is portrayed and fly fish for what you want, how you want. It is a creative activity that requires nothing but an open mind….